HTML5 Free Website Builder - Mobirise v4.9 Review - 2019
There are countless options available today when developing a website, and website development is one of the fastest moving sectors in the world. In the wider world of design many trends span several years, but with web design things are constantly shifting and updating. It's no surprise, when you consider the developing technologies available and the ever-increasing competition with various hardware and software aspects of the internet. The need for 'responsive web design', for example, is now crucially important thanks to the widespread and growing use of various mobile phone and tablet devices. When it comes to designing a website in terms of layout and appearance, however, simplicity is now the key to success. This is why the most of web users start using such tools like free website builder applications.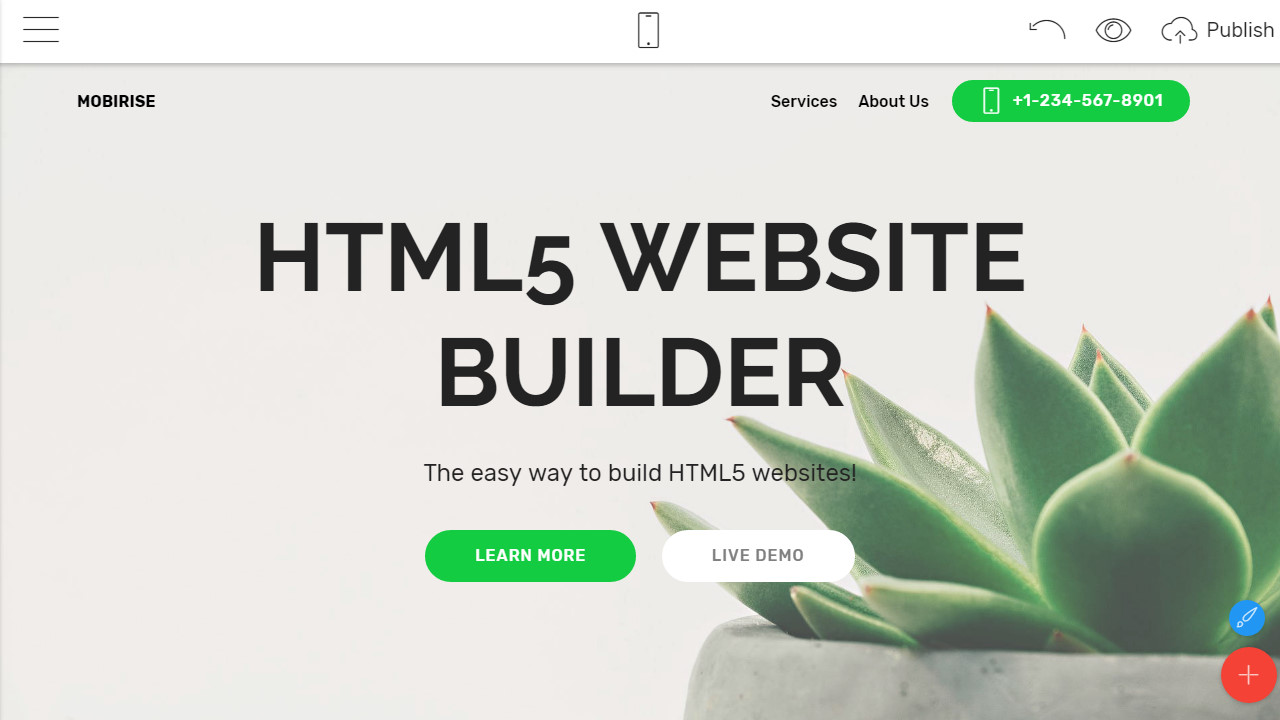 HTML5 website builder is usually an all-in-one solution, which allow you to start from scratch or from a template, and create something as simple or as complex as you need. Some good example are Weebly, Wix, Wordpress and Shopify (an e-commerce solution)
Of course, all software programs have their own strengths and limitations, so you cannot assume that they are all the same and you will want to find the best one for your needs. As a general rule, the more user-friendly the software, the more likely it is you will get the results you need, but you do need to check the functionality which you need is also available. A good question is: Why make things more complicated than they need to be, when easy-to-use software such as Mobirise is available to help you create the website you want?
Mobirise HTML5 Website Builder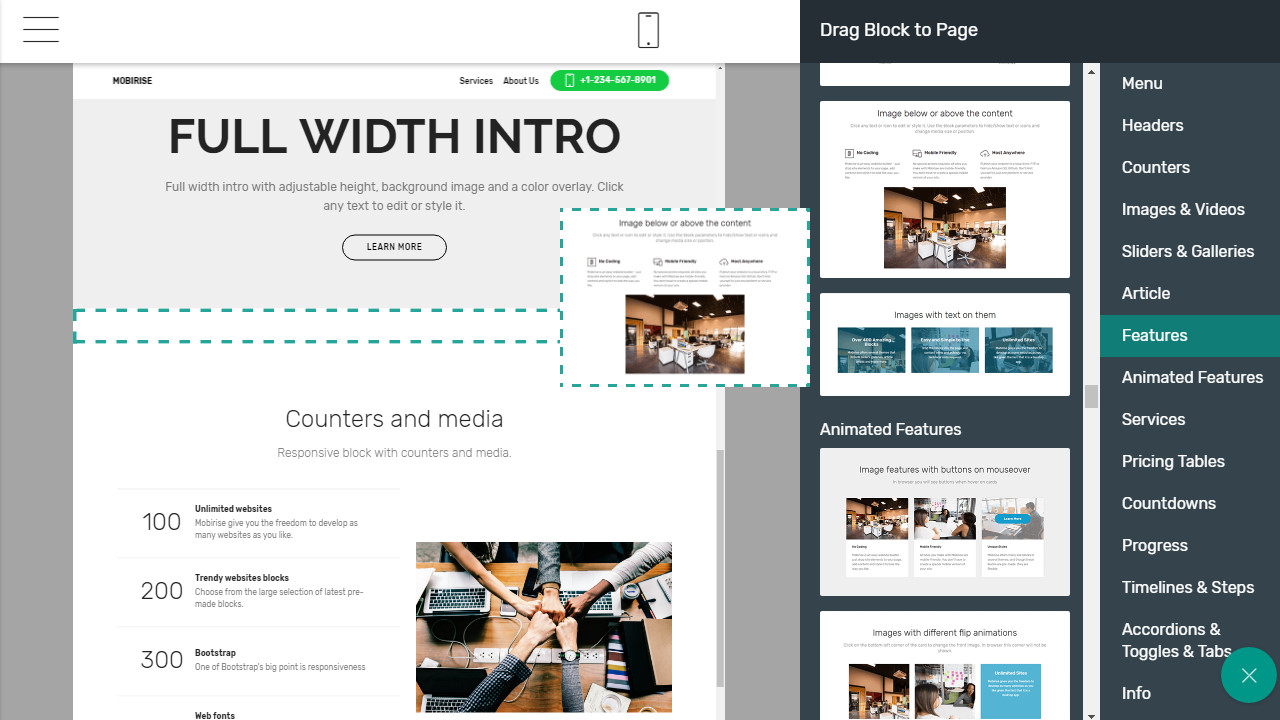 Mobirise is a free HTML5 free site builder software which brings a great balance between ease of use and functionality. It can be downloaded for use with Windows or Mac, and therefore you can be using it even when you don't have an internet connection. Since recently, Mobirise is also provided as an Android mobile application on Google Play. For anyone who can use programs such as Word and basic drag-and-drop editing, it's possible to have a modern-looking website which you have complete control over, along with plenty of extra options such as the ability to track visitors or create image galleries. Mobirise was also reviewed in the Free Website Builder Review.
Site Creation Using Mobirise
Once downloaded, the Mobirise website builder allows you to create new pages and also new websites as you wish. You can easily drag elements such as headers, pictures, video and external links, directly onto the design window of your website. You can change all aspects of your website with great ease, including the name, styling, text, and buttons. You are free to concentrate on making it look exactly as you like, without any complications. There are various Google fonts included, and again this can be changed at any time.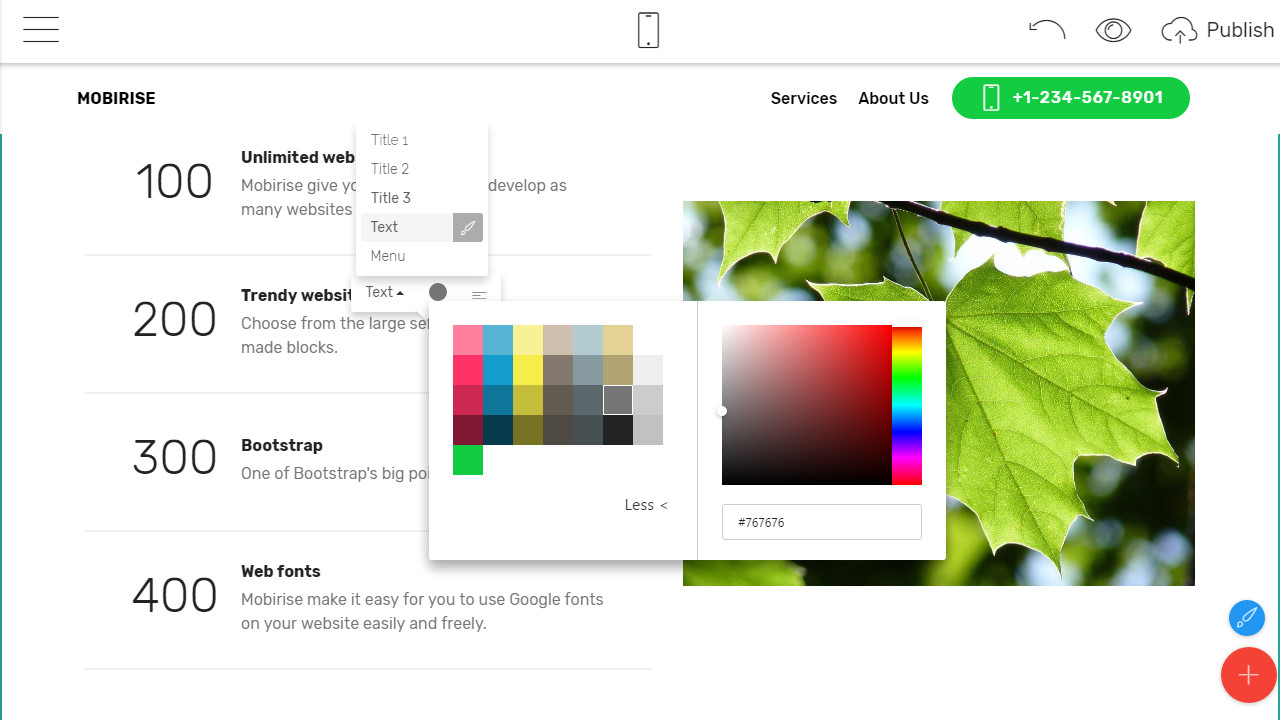 Customized contact forms can be inserted, and social media counts can also be simply added or removed, which are important for most websites today. You can publish your website locally to your own computer, to FTP and to GitHub Pages if you wish. Since the 4.8 version of Mobirise, you can go live with your page just with Mobirise free web hosting that allows you to choose a free custom sub-domain and publish your website online directly from the app. You can then make any necessary changes from your Mobirise bootstrap builder and republish your website at any time.
Conclusion
Mobirise Free HTML5 Website Builder is exactly what website design should be for the majority of drag-n-drop builders today - it's free to use, easy to work with, and with enough functionality to be useful for most internet needs. It's mobile responsive, it retains a smooth and modern appearance and functionality, and it is an HTML 5 website editor - not simply a creator.
You can remain in complete control of your website and update whichever elements you like as necessary. You can therefore design a polished and fully functioning website without needing any coding skills whatsoever. It is a truly great opportunity for both beginners and experienced web designers alike to get their messages and offers out to the world in a stylish and effective way.