jQuery Image Slider to Ginger Up Your Website - WOW Slider v9.0 Review
Ever visited a website and in the course of it loading, you found images literally loitering around? Images scattered in a way that makes the whole site uninteresting to you? Or perhaps you've been on the lookout for a way to arrange images in a slide on your web page in a way that gives an overall feeling of organization to it. WOW Slider is the perfect answer to this need. Follow this article and see why.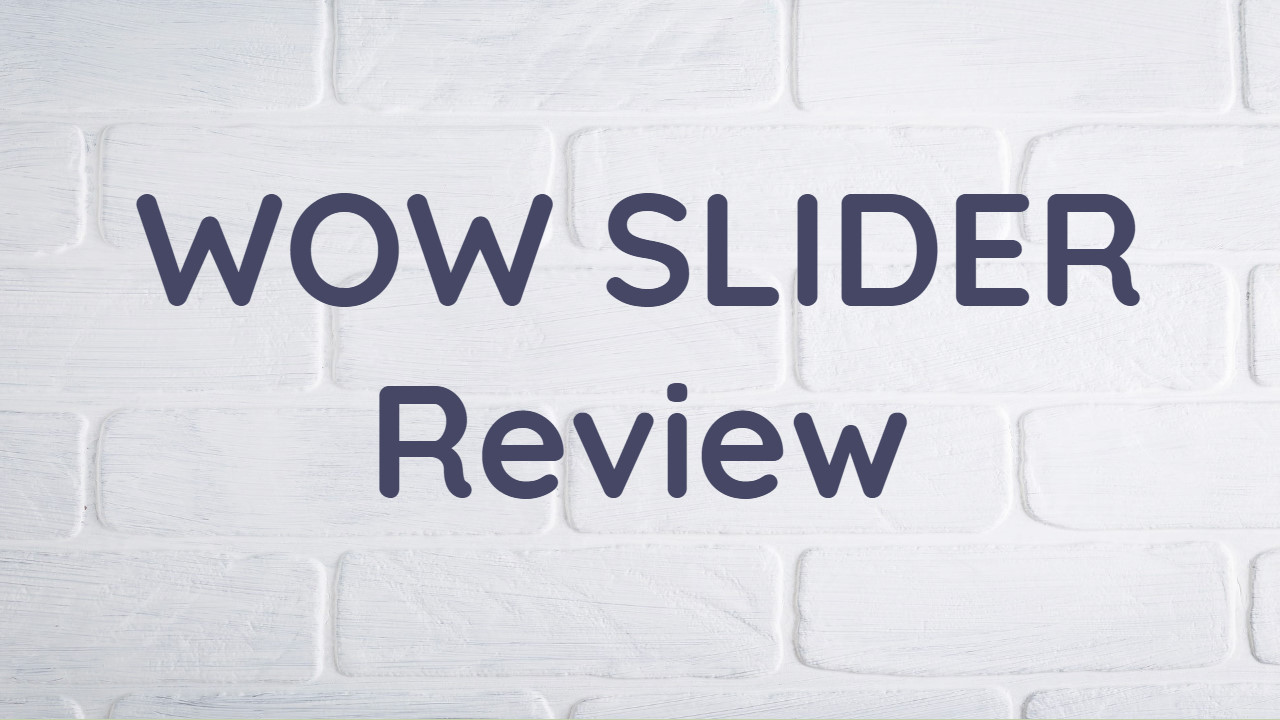 Why Use Image Sliders?
An image slider like the name suggests is simply an app that allows images to be displayed in a slide. But does it end there? No. Image sliders do so much more than just put up your selected pictures in a slide for you, they also do a wide range of things to help your site appear better, and rank better on search engines.
Fine tune your message: Ever heard the saying, a picture speaks a thousand words? Well maybe not a thousand but a well-arranged picture slide on your website is a good way to package your message for your visitors to see and make a visual connection even before the words follow.
Improve user experience: User experience is one thing every website aims to have good points in, as it directly relates to the chances of visitors coming back for a second visit. Bad experience equals no return.
Improved functionality: Because images serve several purposes, using a jQuery image slider for your website would harness the different functions you seek through your images into one and this improves how your site functions.
Once you've decided to use a slider for your site, the next thing is to get apps and resources for embedding image sliders into a website. It is very necessary to do this embedding or your picture slides would never make it to the webpage.
WOW Slider - jQuery Image Slider
WOW Slider is a small, powerful and easy to use jQuery image slider app that gives you an instant, well-designed picture slide that is very much accessible and compatible with slider plugins across a wide range of platforms. It is compatible with both Windows and Mac.
Developed based on JAVA, HTML and CSS, WOW Slider creates stunning slides for you without the need for code. This jQuery image slider works perfectly on both mobile devices and all major browsers.
How To Use WOW Slider
WOW Slider is really easy to use, with it's modern and instinctual interface that allows for a one-click installation. Once you download the file, a single click will bring the installation up and upon confirmation, it is carried out. WOW Slider is designed for use in three easy steps:
Drag and drop images: Simply select the images you want in the slide, and then drag them into the allocated space for dropping images.
Customize: You can now choose the effects, skins and several other options you want the slide to follow. You have control over what you want, and how you want the slide to appear. There is a wide range of skins and effects you can choose from to suite your taste.
You can now save the slide as a stand alone page, or even as a Joomla module or a WordPress plugin. Another option is to directly embedded it into your website using the built-in inset-to-page wizard. Quite easy right?
Key Features and Benefits
Features
There is a long list of features WOW Slider provides, but here are the major ones that count the most.
Lightweight (less than 15Kb zipped file)
Search engine responsive design.
Controls for next/previous.
Supports both Mobile and Desktop platforms.
Attractive templates.
Background music.
Touch swipe requiring no Flash.
Navigation is bulleted.
Options are customizable.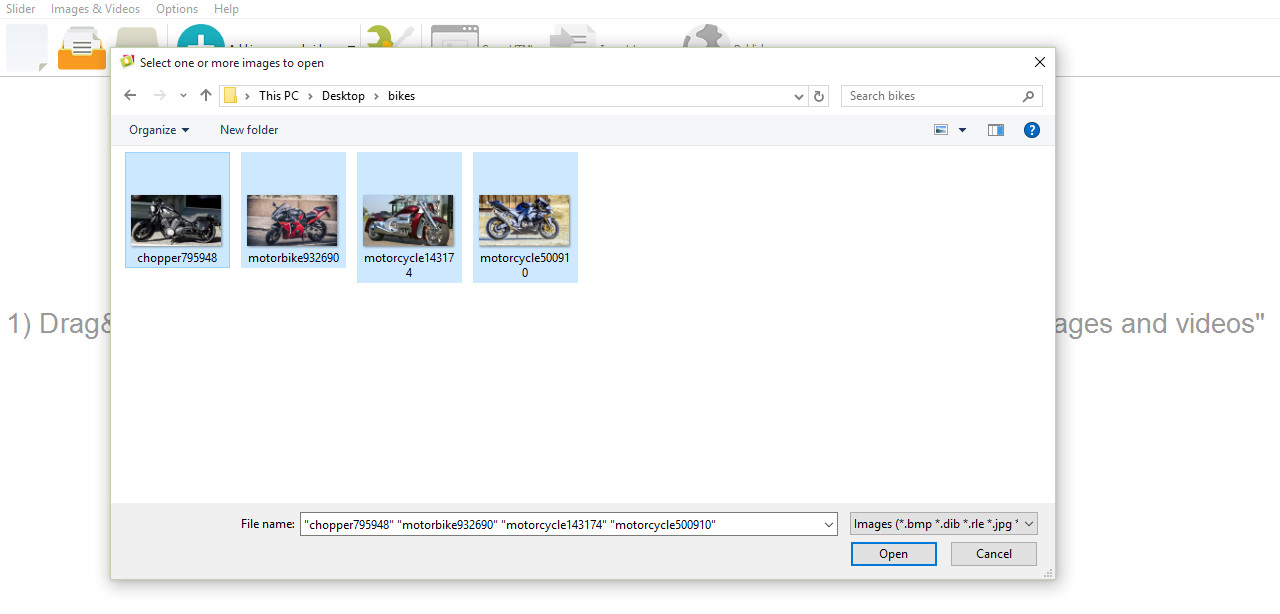 * Adding multiple images to WOW Slider
Benefits
Using WOW Slider comes with a lot of benefits including:
Since it is designed using HTML, CSS, and JAVA, it doesn't need a flash or any plugin for you to embed it into you site. This makes it responsive on even mobile devices.
Its code is written in a way that allows most browsers read it, and also Search Engines, allowing your website to be indexed and Ranked.
Adding pictures to a slide is never limited to only pictures from your local drive. You can add videos from YouTube, Vimeo, and pictures from Picasa, Photobucket, and even Flicker. There's no limit.
There's a live preview area that allows you see the changes you make in effects, timing, amd other settings which you can then save.
You can create slides that align with your website's needs and focus. There are lots of themes and designs to choose from and you're not stuck with just a little option to make.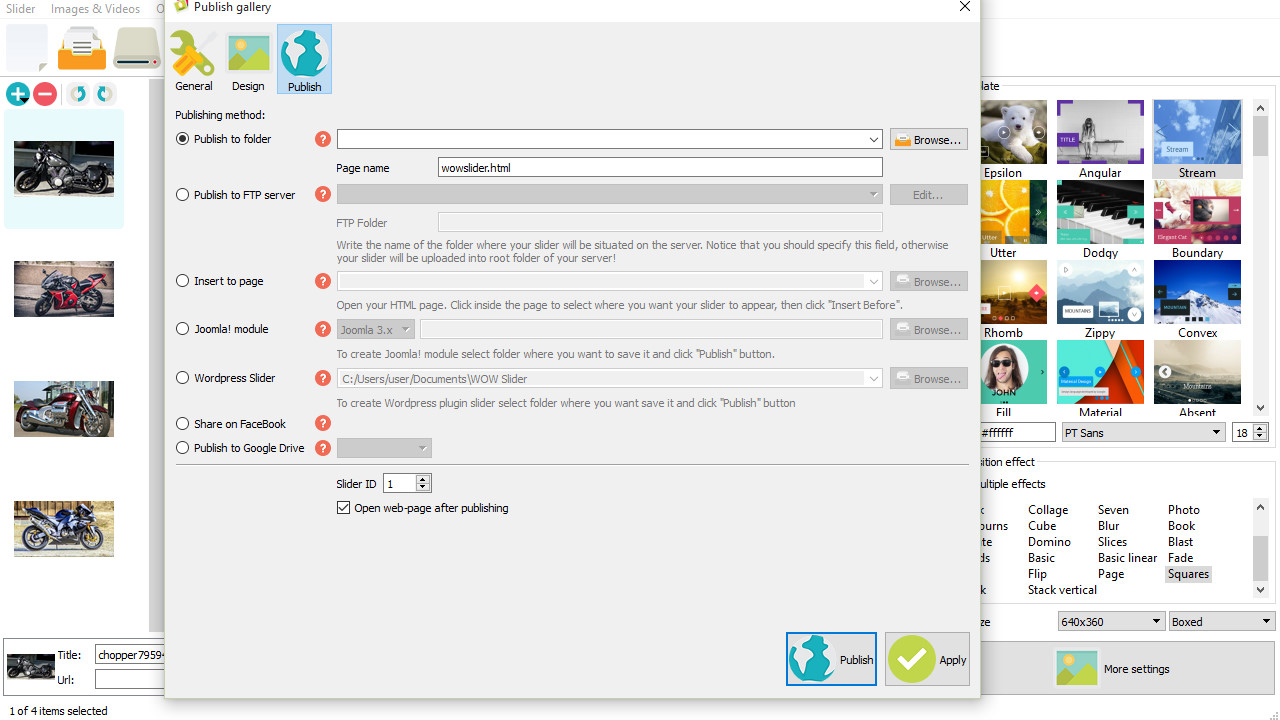 * Publishing options available in WOW Slider
Conclusion
WOW Slider isn't just an ordinary tool for creating slides; the benefits offered is really worth the price. Licences are available for single websites for $69. Getting a slider isn't a tough business anymore with this jQuery image slider on the scene. Take control of your website's slide and get real value.